Rav en Series Vinyl Cutters
"The best value in a cutter anywhere!"
New Rav en 8 gives you Ultimate Tracking provided by new, improved grit wheels for much longer cutting. With the improved grit wheels, you can expect it to track true for up to 50 feet! It now has 3 grit wheels to give you longer tracking and ease to use up mall pieces of vinyl.
The new Rav en 8 is very fast, running at 3x the speed of Rav en 5 and faster data transfer rates.
It also has a larger, colour LED Touchscreen Display to make your operator experience easier.
Rav en 8 allows you to save your files to a memory stick and cut directly from that, enhancing your production efficiency even further.
Now you can cut your graphics more easily, faster, and with less frustration! What's more you still get an incredibly low price tag. Rav en 8 competes performance-wise with all of the major brands at a fraction of the price, making Rav en 8 "the best value in a cutter anywhere!"
The Small Talk
Yes, Rav en Cutters are made in China. We understand there's been negative feedback on Chinese vinyl cutters, because many resellers are only interested in pushing them out the door and don't support the products they sell. This is not the case with Rav en Vinyl Cutters.
We've put a lot of time and effort into sourcing an extraordinarily affordable, cost effective vinyl cutter for our market. These quality cutters are made for us in a factory in Shenzhen, where we've personally visited and consulted with the engineer. And that's not all...
Each and every Rav en Vinyl Cutter is tested by our quality control experts before it's shipped out to you. We have almost 1,000 satisfied clients to date and we're happy to provide you with references.
We've been selling Rav en Vinyl Cutters since 2002, and the response has been phenomenal. Why? Because for a price point vinyl cutter the value is amazing. They're more dependable than any other cutter in this class, and they're built to last. Click here to see what a satisfied client has to say about a 3-year-old, 1st generation Rav en. (And there's been so very many improvements since!)
For the best all-around value in affordable, professional vinyl cutting machines check out the Rav en 8 Vinyl Cutters. The price to quality ratio on these cutters will amaze you. They're priced to get you started. You won't have to wait any longer. Now is the perfect time to embark on your own business venture. If you're just testing the waters, Rav en is your best option. You'll be surprised how quickly you make your money back, especially with SignEquip's Super Value Bundles.
What about wall art? It's all the rage, and now is the time to get in on this lucrative opportunity. Utilizing removable vinyl for graphics and text, wall art is both a consumer and commercial decorating and advertising alternative, which has gained widespread popularity. To help you develop a new profit centre, SignEquip has put together the Wally Rav en Package. Check it out!
Note: Entry level equipment and software is great for starting up your business, but every entrepreneur knows that in order to keep on growing sales and profit potential, you must have an upgrade plan from the get-go. SignEquip can help. Ask about our trade-up plan. Better yet, once you're ready to take the next step and invest in higher production equipment and software, hang on to your Rav en 8 - the perfect back-up machine for non-stop production.
It's so easy. Place your order with SignEquip now. With this amazing offer you'll be on your way to creating profits for yourself and your business in no time! Usually ships within 48 hours.

New! Rav en 8 24"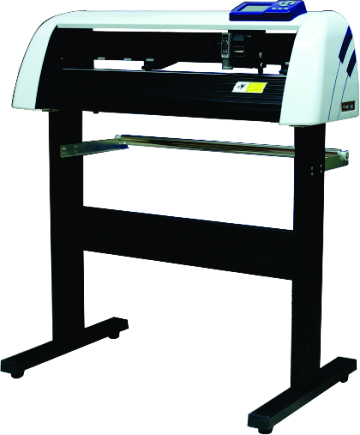 Check out Refurb Clearance specials...
Comment received December 4th, 2006 (Ken purchased his Rav en in April 2004, almost 3 years before writing this.)

"...my (Rav en) CT630 that I bought through Corbins (SignEquip) is still a real workhorse in my shop."
Thanks again,
Ken Beyer
Signs That Work!

FEATURES Rav en 8:

Top Professional Quality

Faster data transfer rates

Ultimate Tracking up to 50 feet

Super Fast - 800 mm/second

USB/Serial connection

USB reader

Large, colour LED Touchscreen

Enhanced 32-bit mainboard

High-Quality cuts

350 grams pressure

Large 1MB buffer

Software flexibility

One year warranty

Stand - optional extra Pk #1 and #2

Stand - with Pk #3 and Pk #4

RAV EN SERIES PRICE MENU

NEW $pecial$

(Package contents and prices guaranteed until further notice, or while supplies last.)
Click here to view contents of Starter Kits.
______________________________________________________________________

PKG 1: Rav en 8 24" Cutter, WinPC Basic Software, Training Video, 2-Star Starter Kit, FREE Unlimited Tech Support

__________________________________________________________
PKG 2: Rav en 8 24" Cutter, WinPC PRO Software, Training Video, 2-Star Starter Kit, FREE Unlimited Tech Support




__________________________________________________________
YOUR BEST DEALS!*

*PKG 3:
Rav en 8 24" Cutter, Stand, WinPC Basic Software, Training Video, Clip Art CD, 3-Star Starter Kit, FREE Unlimited Tech Support



*PKG 4:
Rav en 8 24" Cutter, Stand, WinPC PRO Software, Training Video, Clip Art CD, Fonts CD, Mini Rainbow Roll Starter Kit,
FREE Unlimited Tech Support,
(Vector Art Mega Collection #1 Included for July 2022 only. A $347.00 Value. While stock lasts.)

__________________________________________________________

Your choice for basic Wall Art Production

WALLY Rav en PKG: Rav en 8 24" Cutter, WinPC Basic Software, Training Video, Fonts CD, Wally Starter Kit, FREE Unlimited Tech Support




Add-On Options:

Click here for more options for your Rav en Vinyl Cutter.


Options:
Special pricing on 'Sign-Shop-in-a-Box'
available only with any Rav en purchase:


• Application tape
• Application/transfer fluid
• Vinyl
• Clip Art
• Squeegees
• Mini Contractor's Pricing Guide
• Rivet Brushes


'Sign-Shop-in-a-Box' (Rav en Version)** for the special price of

** Contains 10 yards each of 24" Intermediate Grade white, black, red, blue, & yellow vinyl; 1 roll 6" application tape; 2 squeegees; 1 pr. tweezers; 1L Rapid Tac, manual slitter, CoroClaw cutter, Vinyl-Off 10-4.
What's in the Rav en Package?
Rav en Vinyl Cutter

Media roll holder (Pkg's 1 & 2)

Stand (Pkg's 3 & 4 only)

Serial cable w/USB adaptor

Power cable

Knife holder

3 Blades

Pen

Instruction manual

Driver CD

WinPC Basic Software (Pkg 1 ,3, & Wally only) or WinPC PRO Software (Pkg 2 & 4 only)

All Bonuses, including Starter Kit
Rav en Vinyl Cutter FAQ - Click here
How To Easily Make Vinyl Graphics Video
You'll love this deal!
When was the last time you realized, "If only I had a sign for that!" Discover how you can make signs and more with the amazing Rav en 8 Vinyl Cutter. Due to popularity these amazing cutters fly out the door! You're in luck, we've received our new shipment. But it won't last long! Avoid disappointment ORDER NOW.
Money Magnet!
The Rav en 8 has cornered the market on versatility. It's an excellent first machine if you're just starting out in the sign business. It's also the perfect back-up unit for those really busy days, or an insurance policy to protect you from downtime caused by equipment failure.

Professional Quality - Entry Level Price
Professional quality and extremely affordable price - what more could you want? Whether you're just starting out, or you're looking to add another cutter to your business, Rav en 8 is the best value in a cutter anywhere!
NEW Features
· Flexi Sign Compatibility
· SignLab 9 Compatibility
· Better cutting head
Top Quality
Solid construction with a cast aluminum deck and chassis. Built with a long life expectancy.
Standard 24 Inch Width
The 24 inch continuous grit roller provides great flexibility by accommodating full rolls or any size scrap material.

User Friendly
The Rav en 5 has a streamlined body design with an easy-to-read LCD display. The auto-storing function allows the operator to preset parameters, facilitating immediate use when the unit is switched on.

High Quality Cuts
New micro-step algorithms, high quality carbon alloy knife blade, and updated cutting head produce more precise cuts, even at full speed.

500 Grams of Cutting Force
The cutting force is electronically controlled, allowing for the cutting of many different substrates.

Large 1 Meg Buffer
With the large buffer any job may be repeated directly from the cutter.

Software Compatibility
Use with many popular design and signmaking software packages. Compatible with CorelDraw, WinPC, Flexi, SignLab, and more.

Signs and More
Have you ever organized a meeting in a large building, and nobody showed up because they couldn't find the room? Have you ever tried to push a new product in a crowded showroom, but nobody noticed it was there? Or how about that special event? Wouldn't some banners have given it the pizzaz it deserved? You could even take marketing to a new level, and put your label on the product you sell! And what about enhancing your home crafts, etc. with amazing graphics and lettering! The new Rav en 5 Vinyl Cutter can do all this and more! The possibilities are endless. Only your imagination is the limit.
The Secret of the Rav en 8
The Rav en 8 is so versatile. It is perfect for home use as well as industrial and commercial advertising purposes. Now you can profit by making banners, labels, posters, signs, window signs, heat transfers for jerseys, vehicle graphics, logos, stencils, race car decals, bill boards and much more. At home you can use it for crafts, scrap booking, lettering and graphics on books, binders, models, toys, and sports equipment. Many schools use it for fund raising projects, such as personalized license plates or personalizing other crafts and giftware.
Discover How Easy It Is
It is so amazingly easy to operate, even your teenager can earn extra cash with the Rav en 8 vinyl cutter. All you need to do is design your lettering and graphics with the WinPC software (or your choice of compatible software), insert the adhesive backed vinyl into the Rav en 8, and cut your design. Then you just remove the unnecessary material, and apply your design to almost any surface. How much simpler could it be?

One Year Exchange Warranty.
Trade-up Plan Available. Contact us for details.
Model
Rav en 8
24 Inch
Control Panel
3 x 2 inch colour LED touch screen,
8 buttons
Controller

32 bit cpu processor customized mainboard

Driver
Main shaft double high torsional motor, micro-step and subdivision driving
Max media width
730mm
Max cutting width
630mm (24")
Cutting speed
800mm/S
Cutting thickness
1mm
Cutting pressure
0 - 350 gm (digital keypad adjustment)
Resolution
0.025mm
Blade type
high speed carbon alloy-steel
Pen type
all standard plotter pens
Language
PL/HT - GL(TM)
Interface
RS232C (serial) + USB reader
Power supply
AC110V-60Hz (AC220V available)
Power usage
<120VA
Operating temp
+5Deg C - 35Deg C
Size (mm)
1010x230x280
Weight (kg)
22
"Hi,

I just wanted to thank you for the great service and product. Having never had a vinyl cutter or any experience, I have (the Rav en CT630) up and working without a problem. It is MUCH BETTER than I expected and I would recommend both the product and YOUR COMPANY to anyone."
THANKS AGAIN
Richard Kutz
Waco, Texas

"Hi - this (Rav en) cutter you sold us works great! Made quite a transformation in our business because we used to outsource our cutting and being 20 miles out of Saskatoon isn't as handy as now, just going from the shop to the computer room.

Thanks !"
- Wayne @ WAYLYN SIGNS
Dundurn, SK
Don't hesitate to get the best value anywhere for your money. Need more info on Rav en 3 Vinyl Cutters? We're as close as your email or telephone. Real people answer our phones, and we love to help you. We're with you every step of the way. For one-step service call SignEquip; we'll answer your questions, and you can place your order over the phone.